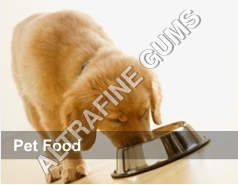 Cassia Tora Powder
Product Code : CASSIA-2
Product Description
Leveraging on our vast industry experience, we bring forth for our clients premium quality Cassia Tora Powder, which is a natural bi-product of fine-grade seeds. It is widely used in textile, food, beverage and agriculture industries. Our product is used a cassia gelling agent, foam stabilizer or a thickener. To retain different chemical properties, we keep this tora powder at airtight containers in most ideal conditions. Offered Cassia Tora Powder is highly acknowledged for high viscosity, accurate pH level and excellent surface tension.

Cassia Tora Powder
Cassia Tora Powder also known as Cassiakernmehl is derived from Cassia Tora having a family name Caesalpinaceae, botanical name is Cassia Tora and common names are SICKLE POD, SICKLE SENNA, FOETID CASSIA, TOVARA, COFFEE POD, CHAKVAD. Cassia Tora is a wild crop.

These seeds grow in the dry soils and in the tropical regions of India, in both hot and wet tropical climates. A typical cassia consists of 1-2% volatile cassia oil. This oil basically brings the spicy and aromatic flavors in any preparations in which it is applied.

Cassia is basically a slim evergreen tree. In order to harvest this tree the bark of the tree is sown to grow a cassia crop. The cassia tree is 65 feet height.

Cassia Tora has natural gelling properties. A gelling composition and thickener is based on quality of Cassia Tora. Cassia Tora is used as a gelling agent that is Cassia Gel. Cassia powder natural gelling properties for using as a gelling agent. Cassia is a gelling agent used as an air freshener in the form of gels. Cassia powder works as a gelling agent in pet food.
Cassia tora powder, cassia tora split, cassia torea splits, cassia tora split powder, goma cassia, cassia dervo etc. of cassia origin from India are available in finest quality from Altrafine Gums. Caesalpinaceae, a botanical name is cassia tora and common names are sickle pod.
The Physical and Chemical Properties of Cassia Tora Powder
Cassia Tora Powder is basically Off White To Yellowish in color, with
Moisture content : 06 to 12%,
Fiber : 05 to 10%,
Gum : 75 to 80%
Odorless
Protein : 04 to 06 %
Ash : 0.5 to 1.0%
Viscosity : Hot Viscosity 5% sol. Brookfield. Spindle No. 6, 20 RPM @ 25°C. TEMP, 30,000 - 50,000 CPS.
Acid Insoluble : 03 to 05%
Fat : 0.5 to 1.0 %
pH : 6.0 - 7.5
Gel Stern : 500 Min.
Chrysophanic Acid: Max. 10 PPM.
Cassia Tora Powder Number ( Cassia Powder )
E No. of Cassia Powder: E499
Applications - Cassia Tora Powder
Cassia Tora has natural gelling properties. It can be used as a substitute for coffee.

Some of the other applications of Cassia Powder include

Food for Pet
Cassia is used as a food for pets substituting locust bean gum or carob gum. It is used with the combination of Kapa Carrageenan as wet canned pet food.

Food Additive
In many industries it is used as a food additive. It is a natural additive.

Fresheners
Cassia is a gelling agent used as an air freshener in the form of gels.

Along with above, Cassia Tora powder has other applications used especially in food industries as it has an excellent gelling property as compared to other colloids used. It is also used for emulsification, foam stabilization and for the purpose of moisture retention.

Medicinal uses
Cassia tora powder has properties, useful in healing skin diseases like ring worm, psoriasis and itch.
Altrafine Gums, a supplier and manufacturer of producing an extensive range of agro products that includes Cassia Tora Powder and cassia tora powder for food additives, food ingredients and pet food additives. With additional natural gelling property Cassia Tora is also useful as gelling additives.
Contact Us
88/2, Phase-1, GIDC, Vatva, Ahmedabad, Gujarat, 382445, India
Phone :+917259663562